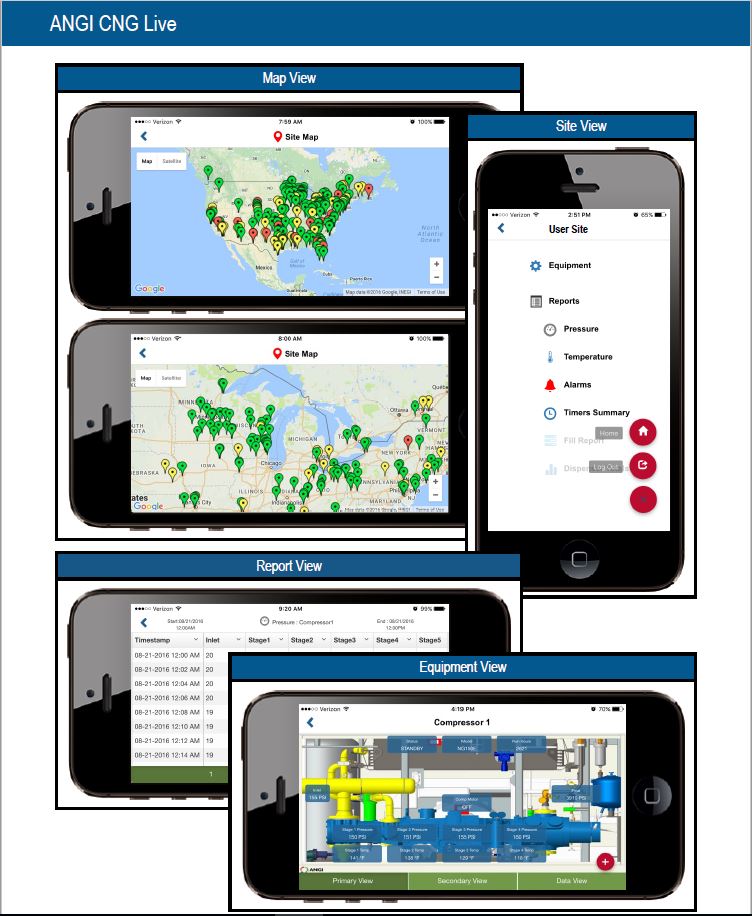 For current and future ANGI Energy customers, the ANGI CNG Live application makes checking the status of your ANGI compressed natural gas (CNG) equipment easier than ever. The application provides you with 24/7 remote access to the operating status of your ANGI CNG sites from anywhere in the world.
ANGI CNG Live Highlights
Compatible with most smart phones.
Easily accessible: Available for free download through the Apple App Store and Google Play.
Intuitive interface: User friendly graphical interface scalable for any site configuration.
Live equipment data: Supports current ANGI hardware — compressors, boosters, dryers, dispensers, and most valve panels.
Historic reports: Includes reports of 6 key parameters (compressor pressure / temperature / run timer, dispenser fill / totals, site alarms).
Existing site compatibility: Any site that includes a CP-400 unit with ANGI server connectivity can be setup for a fee.
To upgrade your site, contact ANGI Customer Service at (800) 934-5219.
Already a CNG Live user click here to access the desktop browser version.