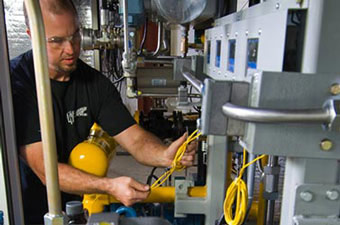 Keeping a CNG station running at design performance is one of the most important elements of fueling CNG vehicles and fleets.
ANGI has experienced service technicians who are available to travel to a site to perform maintenance. The factory technicians are often the people who perform final tests on CNG stations before they leave the factory and therefore know the mechanical, electrical and instrumentation on a CNG station very well. ANGI also has regional service personnel that are located in areas where there are many ANGI stations. ANGI's distributors can also maintain CNG stations.
ANGI can provide a range of maintenance services. Our customers usually perform routine inspections themselves. ANGI can provide both scheduled and unscheduled maintenance on stations ANGI built as well as CNG stations built by others.
Please contact our Customer Service Team at 800-934-5219 or Send Email to our Maintenance team for more information.