Standard, conventional or online stations are descriptions of similar types of CNG stations. Fast-fill stations take natural gas from a pipeline, compress it and dispense it into various types of vehicles. ANGI has designed standard CNG stations for bus fleets of all sizes, private fleets and a range of sizes for public filling.
Compression Systems – ANGI can design systems for every standard CNG station application. Some of the key design parameters are: single compressor or multiple compressors for redundancy and additional capacity; pipeline gas pressure available; natural gas engine or electric motor to drive compressor; noise requirements of the area; and most importantly the vehicle fill requirements.
Gas Management – After compression, delivery of CNG can be prioritized to ground storage, vehicle dispensers or specific dispensers. Understanding the site needs is key to developing the optimum gas management system.
Dispensers – ANGI produces a number of standard dispensers starting with the most basic non-metered hose pole to multiple hose, high flow dispensers. ANGI can also provide custom dispenser for specific applications.
---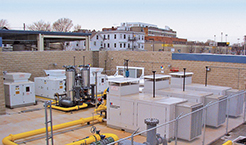 The Arbor Way site is owned by Massachusetts Bay Transportation Authority. The site fills 100 CNG buses each day to service the greater Boston Area.
Specifications:
Compressor 3
Capacity ea. – 700 scfm – 1180 SM3/Hr
Capacity site – 2100 scfm – 3550 SM3/Hr
Motor Power ea. – 250 Hp – 187 KW
Inlet Pressure – 140 psig – 9.3 barg
Discharge Pressure – 4500 psig – 310 barg
Dispensers Transit 2
Maximum Flow ea. – 5000 scfm – 8450 SM3/Hr
Meters Micromotion – DH-100